Amanda Peet was born on January 11, 1972 in New York, New York. She potrays Jordan McDeere, President of NBS on Studio 60 on the Sunset Strip.
Biography
Edit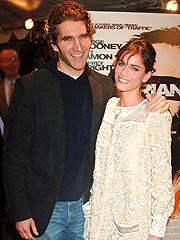 Early Life
Edit
She grew up in New York with her older sister and their parents, Charles, a lawyer, and Penny, a social worker. She studied history at Columbia University where a drama professor convinced her to audition for acting teacher Uta Hagen, with whom she later went on to study for a four year period. When she decided to pursue acting, she supported herself during the audition phase of her career by waitressing and with residual checks she received from a Skittles candy commercial.
Acting Career
Edit
Her feature film debut came in 1995 in the movie Animal Room. For a while after, she continued to find steady work, but also found herself appearing in a large number of indie films that were never picked up. It was her turn as the dippsy hit-woman with the heart of gold in the hit comedy The Whole Nine Yards opposite Bruce Willis and Matthew Perry, that took her from supporting role status to leading lady.
Personal Life
Edit
Amanda is engaged to screenwriter David Benioff whom she began dating in early 2003. It was reported on September 15, 2006 that Amanda and her fiancé, are expecting a baby. The actress's rep, Stephen Huvane, has confirmed the news. [1] There is no word how this will be addressed, if at all, in Studio 60 on the Sunset Strip.
Awards and Nominations
Edit
Blockbuster Entertainment Awards
Edit
2001 Nominated for an Blockbuster Entertainment Award for Favorite Supporting Actress - Comedy/Romance for: The Whole Nine Yards (2000)
Teen Choice Awards
Edit
2005 Nominated for an Teen Choice Award for Choice Movie Actress: Comedy for: A Lot Like Love (2005)
Educated at an all-girls' prep school in London.
Worked at "City Crab" in New York before hitting it big.
Attended Friends Seminary high school with actor Liev Schreiber when he was a senior and she was a freshman.
Select Filmography
Edit
The Martian Child (2007)
Griffin and Phoenix (2006)
Syriana (2005)
Melinda and Melinda (2004)
The Whole Ten Yards (2004)
Something's Gotta Give (2003)
Identity (2003)
Whatever We Do (2003)
Igby Goes Down (2002)
Changing Lanes (2002)
High Crimes (2002)
Saving Silverman (2001)
Whipped (2000)
Takedown (2000)
The Whole Nine Yards (2000)
Isn't She Great (2000)
Select Television Appearances
Edit
Televison Series Roles
Edit
"Studio 60 on the Sunset Strip"
"Jack & Jill"
"One Life to Live"
Guest Starring Roles
Edit
"Partners"
"Seinfeld"
"Spin City"
"Central Park West"
References
Edit
Ad blocker interference detected!
Wikia is a free-to-use site that makes money from advertising. We have a modified experience for viewers using ad blockers

Wikia is not accessible if you've made further modifications. Remove the custom ad blocker rule(s) and the page will load as expected.