Harriet Hayes
[[Image: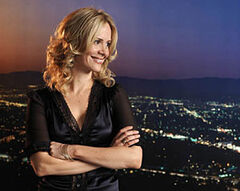 |center|284px]]
Key information
Behind the scenes
Hannah Harriet Hayes (stage name "Harriet Hayes", and often called by the nickname "Harry") is an actor on Studio 60 on the Sunset Strip (NBS).[1] She has been with the show for the past seven years as of 2006.
Background
Edit
Early Life
Edit
Harriet is the youngest of seven children; she has six older brothers. Her mother was a devote christian, who is credited with giving Harriet her faith, died of cancer when Harriet was a teenager. Her father was a factor work who became an alchoholic after he was laid off. 
Professional Life
Edit
Harriet is one of The Big Three actors on Studio 60 on the Sunset Strip (NBS).
She is also a devout Christian and recently released an album of spiritual music[1] in which she appeared on a number of television programs to promote, including the 700 Club.
Personal Life
Edit
Harriet at one time dated Studio 60 on the Sunset Strip Executive Producer and Head Writer Matt Albie after his departure from the show. It was reported by friends that they had parted ways prior to his return, due to him disliking that she pushed her album on the the 700 club("you...sang for a bigot" as he put it); Matt also said that it was because he made a joke about her getting a standing ovation after singing the national anthem at a dodgers game.
She has recently dated Darren Wells, although that probably ended when he wrote his phone number on a baseball he autographed for Jordan McDeere in a way reminiscent of how he first came on to Harriet.
References
Edit
Official Site of Studio 60 (NBC)
↑ 1.0 1.1 http://www.studio60theseries.com/ Harriet Hayes Biography