Suzanne
[[Image: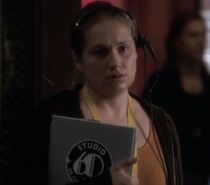 |center|284px]]
Key information
Behind the scenes
Suzanne
is a recurring character in
Studio 60 on the Sunset Strip
on
NBC
. She is played by guest star
Merritt Wever
and debuts in the series
pilot
. She is a Production Assistant for
Studio 60 on the Sunset Strip
on
NBS
.
Biography
Edit
Background
Edit
She greets Jack Rudolph when he arrives during the show and asks him to keep his voice down because they are doing a live broadcast. He scoffs at her for not recognizing him.[1]
She replaces Maisie as Head Writer Matt Albie's assistant.[2]
Appearances
Edit
Appearances
'
'
"The Focus Group"
'
'
'
"Nevada Day: Part 1"
"Nevada Day: Part 2"
"The Option Period"
'
'
'
'
"The Harriet Dinner: Part II"
"The Friday Night Slaughter"
'
"The Disaster Show"
'
"K & R: Part 1"
"K & R: Part 2"
"K & R: Part 3"
'
References
Edit
Ad blocker interference detected!
Wikia is a free-to-use site that makes money from advertising. We have a modified experience for viewers using ad blockers

Wikia is not accessible if you've made further modifications. Remove the custom ad blocker rule(s) and the page will load as expected.