Tom Jeter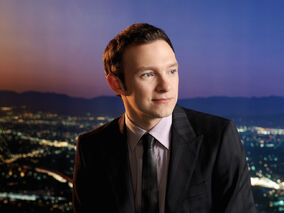 Key information
Behind the scenes
Tom Jeter is an actor on Studio 60 on the Sunset Strip (NBS)[1]
Background
Edit
Professional Life
Edit
Tom is one of The Big Three actors on Studio 60 on the Sunset Strip (NBS). He is known for his "quick impressions" and "unique comic characters" [1] on the show. One popular impersonation is that of President George W. Bush.
Personal Life
Edit
Tom's parents currently live in Columbus, Ohio and have visited Tom in California. His father is resentful of his son and seems not to have an understanding of Tom's work. His mother is very loving and supportive despite her lack of understanding of how much her son loves his job. Tom's brother Mark is in the military and is currently serving in Afghanistan. When his brother's unit needed body armor - Tom made sure that the unit got it.
References
Edit
Official Site of Studio 60 (NBC)
↑ 1.0 1.1 http://www.studio60theseries.com/ Tom Jeter Biography
Ad blocker interference detected!
Wikia is a free-to-use site that makes money from advertising. We have a modified experience for viewers using ad blockers

Wikia is not accessible if you've made further modifications. Remove the custom ad blocker rule(s) and the page will load as expected.